PATU College Outreach Program / 5 Rivers Program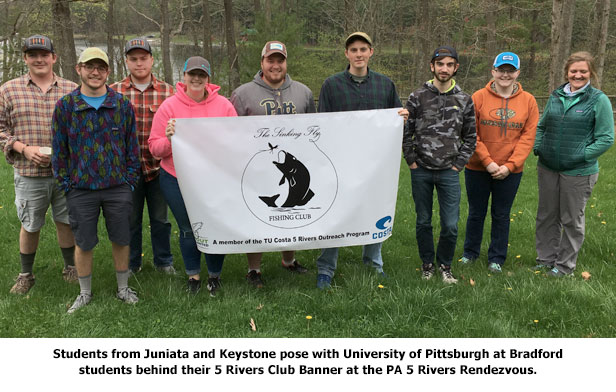 News and Events
---
PATU hosts 5 Rivers Rendezvous at Stone Valley
A small but passionate group of Pennsylvania 5 Rivers College Club members gathered at Penn State's Stone Valley Recreation Area on April 21-22 to socialize, network, tie flies, fish, and share club experiences and successes. A total of 9 members from Keystone College, University of Pittsburgh at Bradford, and Juniata College participated. Finals and a few logistical hiccoughs prevented a couple other schools from being able to join the others.
The first local "PA 5 River Rendezvous" event was sponsored by PATU, the PA Fish and Boat Commission, and the Louis Koch Memorial Fund. Cortland Lines, Cabela's, Orvis​, and Cover Creek Outfitters generously provided rods and other items at no or very reduced cost which were used as prizes and giveaways. PATU members Chuck Winters, Judi Sittler, Walt Reineman, and Gerald Smith joined the group Saturday morning and took the students to a couple fantastic (and challenging) fishing spots along the Little Juniata River. After lunch, PATU President Charlie Charlesworth and Program Director Tali MacArthur facilitated what became an inspiring and informative discussion about club events, leadership planning, recruitment, and how TU national and PATU can continue to support the 5 Rivers College Clubs. They also talked about conservation efforts and events they had planned and participated in.
Later, the students showed off their fly tying skills during a fun and light-hearted competition between schools and individuals. But what was really amazing was when one of the students would put aside the goal of "winning" to slow down and help a fellow student learn a new fly or technique. It was not only their love for the sport but also the care and support they demonstrated for one another and the resource that made me realize, by the end of the weekend, that TU and PA's coldwater resources are in good hands if these students are our future members and stewards.