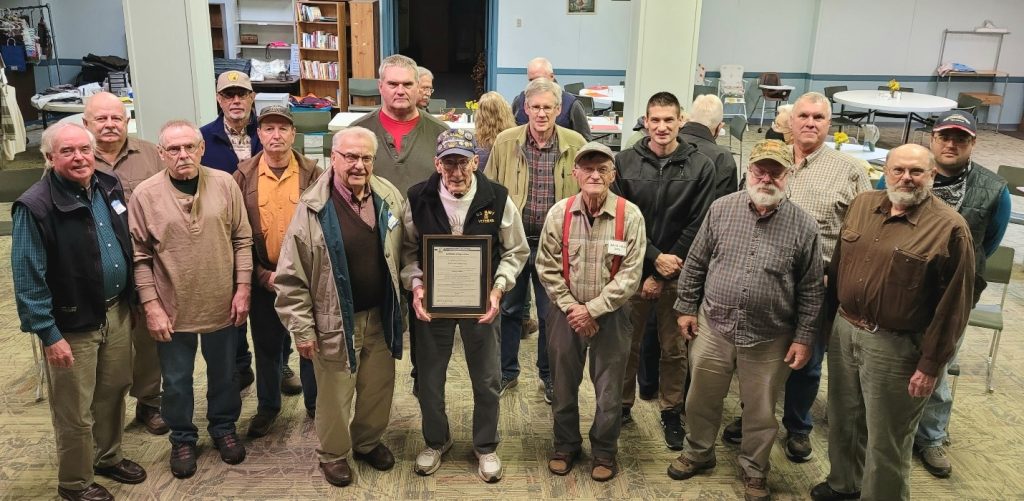 "As we go through life, we meet many people. Some will become friends, colleagues, teachers, and someone you can get advice from and always turn to. Occasionally, we are fortunate to meet someone who meets all the above and influences us and in one way or another.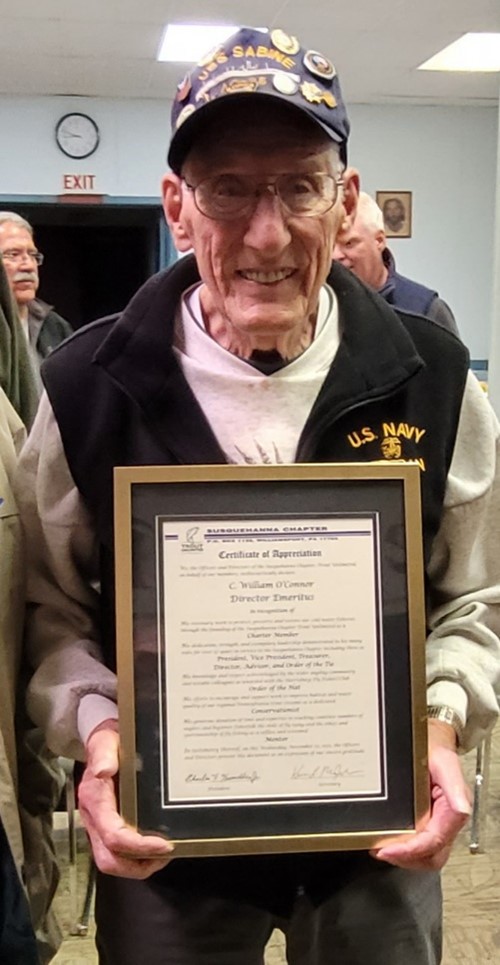 I would like to introduce you to one such man, Bill O'Connor. He has touched thousands upon thousands of lives over the years and even though he has slowed down considerably, he is only a phone call away to ask for help or guidance.  While in junior high school in Williamsport, Pennsylvania, he met an older girl named Doris Hille. They immediately hit it off and began dating. Bill was later introduced her parents, Hilda and Ernie Hille who owned E. Hille and he, nor Doris, could never have imagined how her parents would change the course and path of his life.    
Prior to meeting Doris, Bill was a bait fisherman and now he was being exposed to fly fishing and fly tying. He started to work part time for E Hille 1948 filling orders, running errands, and learning all he could about this new and exciting hobby.    
He graduated from Williamsport High School in 1951 and left for the Navy 3 days later. He and Doris got married in December of that year and saw each other when leave would allow Bill to travel home.    
Upon honorable discharge from the navy in 1954, he immediately went to work full time for E. Hille with his wife. Bill's influence on the business could be seen immediately as he encouraged Ernie to sell to all anglers and not just fly fisherman. In 1956 the business became E. Hille Anglers Supply house and sold everything a do it yourselfer could want.    
Ernie was introducing Bill to all his friends and customers, and he was learning everything there was about the business. Ernie taught Bill how to tie flies, build rods, and manage the day-to-day business. The rod making business exploded through the years to the point that Bill was building 4 + rods a day and he had to hire a full-time rod maker after taking ownership of the business so that he could concentrate on other areas.    
Ernie was a dry fly fisherman and that is what Bill learned and became quite proficient at it. Ernie and Bill would often meet these customers on a local stream or be invited to their homes or a lodge for a fishing venture.    
One such customer was Charlie Wetzel. He and Bill arranged to meet on the famous Penn's Creek for a day of fishing. Charlie knew Bill did not know how to fish wet flies and helped him on this trip.     
They met on Penn's Creek and found a beautiful stretch. Charlie instructed Bill to start at the top of a run and work his way down. Bill made casts and let his fly drift down then retrieve it, take a few more steps downstream and repeat the process. Bill got to the bottom of the run after making several casts and had not caught a fish. He told Charlie that there must not be any fish, or they just were not hungry.     
Charlie had been watching him fish the run the entire time and immediately saw something was wrong. Charlie said that he would give it a try and went to the head of the run, made a cast and caught a wild trout immediately. He continued down the run, just as Bill had done, and caught several trout in the same stretch that Bill failed to catch any.    
Bill was confused as they were using the same fly and Charlie ask him what he was doing that Bill was not. Bill could not figure it out and Charlie said, "you have to mend your line." By mending your line, you would bring the fly to the surface and give it movement in the water. Simple movements of the rod were the answer.    
Charlie told him to go back out and try and wouldn't you know it, Bill started catching fishing. Mending the line was one of the most important things he learned and when talking to him about fishing today, Bill still says that you have to mend your line.  Bill joined Trout Unlimited in 1962 and along with Ernie Hille and a group of friends, they wanted to start a Chapter in the Williamsport area. After many letters were exchanged with George Griffith and Art Neuman, and talking with Charlie Fox, President of the newly formed PA State Council, the decision was made to officially pursue a Chapter.    
On September 5, 1963, the first official meeting of this group of friends was held at the E. Hille Angling Supply House and discussions were held on the goals of the new Chapter and the Charter application was filled out and submitted to TU.    
The Susquehanna Chapter of Trout Unlimited #044 was officially chartered on March 14, 1964, and Bill is the only surviving founding member. Other founding members were Ernie Hille, Bob Rinn, Horace Hand, Al Troth, Ray Secules, and Dick Leaver.
Bill was elected a director that first year and held that position for several years before serving as Chapter President, Vice President, Treasurer, returning to Director, and serving on many committees. He also served as Northern Region Vice President for the State Council of TU (long before it became the North Central Region), Director for the State Council, and Director for the National TU. He has been Chapter advisor since the early 1980's, and remains in that position, and has also attained Director Emeritus status.    
Bill undertook the lead on many projects with the Chapter and if not leading, he played pivotal roles in those projects. His dedication to conservation, teaching and furthering the goals to Trout Unlimited earned him the Order of the Hat given out the Harrisburg fly fishers in 1979 and the Order of the Tie by the Chapter. The Order of the Tie award was conceived by Ernie Hille in 1968 and modeled after the Harrisburg Fly Fisher's award. This award is presented to a Chapter member who had performed an outstanding duty or service for benefit of the Chapter.    
Bill used his connections at E. Hille to bring in many distinguished program presenters at the Trout Kickoffs (the main fundraiser held by the Chapter starting in 1977). Some were- Lee Wulff, Sam Slaymaker, Lefty Kreh, Joe Humphries, Barry and Cathy Beck, Curt Gowdy, and Jay "Fishy" Fullum.    
Bill and Doris took ownership of E. Hill Anglers Supply in 1968 when Hilda and Ernie Retired. At that time, the business had over 6,000 customers in ten countries and supplied 150 stores worldwide at that time and grew to over 35,000 customers in 16 countries when he retired.     
Shortly after taking ownership of the business, he started to teach fly tying classes with the Susquehanna Chapter. His first class, taught in 1968, had twenty students and each participant paid $10 for 2 hours a week for 10 weeks of instruction. He continued teaching fly tying classes until our last class was held in 2020.    
Rod building classes were started and many were taught the thrill of making a rod and catching a trout, or other targeted fish. He was always available for any class that needed instructors. He presented many programs to the Chapter over the years at the monthly meetings with the last one being in April 2017 when he and friend Don Daughenbaugh co hosted and shared their experiences and times on the streams of North Central Pennsylvania and fishing with many dignitaries and other memorable characters.    
Bill regularly attended the monthly meetings and even though he was not the guest speaker, attention usually turned to him as he would give insight based on his years of experience or would have a story or two to share related to the evening's topic.     
When the Chapter became involved with Project Healing Waters and the Service Partnership, he was one of the first people to volunteer to help teach rod building and fly tying.    
Bill worked full time for E. Hille for 37 years before retiring and was able to meet anglers from all walks of life and fame. Some of the notable anglers and customers that Bill fished with include John Alden Knight, Richard Allen Knight, Al Troth, Ernest Schwiebert, New York Anglers Club, Vince Marinaro, Charlie Fox, Ed Koch, Alvin Grove, Lefty Kreh, George Harvey, Joe Humphries, Ed Zern, Charlie Meck, Greg Hoover, Eric Leiser, Bruce Brubaker, Lee and Joan Wulff, and our own Bob McCullough, Don Daughenbaugh and Mike O'Brien.    
He built rods for John Alden Knight and Lefty Kreh, and we will never know if Bill's rods were the ones to help put them in the record books and in becoming legendary anglers.     
His knowledge of fishing and techniques continued to improve, and others began seeking his help. He taught many basic casting and fly-fishing class's and started guiding as a result. Even though someone knew how to fly fish, they may not have known how to fish particular water or certain techniques and Bill always had the answers.   
He has guided for hundreds of anglers, but some notable clients include President Jimmy Carter, Former Senators John Heinz, Alan Simpson, and John Dancroft. Bill was guiding and learning this business from Bob McCullough, Don Daughenbaugh, and Jerry walls.    
Bill left his mark on everyone he met and worked with. He could not have done any of this without the support of Doris. Even though Bill was the face of the business, Doris was an equal partner and supported Bill in every way. Bill and Doris would work all day and after getting home, Doris would help Bill get his materials together for a class that night. Without her support, Bill could not have done everything that he has.    
At the November 2021 Chapter meeting, Bill was honored with a Certificate of Appreciation from the Chapter as well as a letter of commendation from Tim Schaeffer, Executive Director of the Pennsylvania Fish and Boat Commission.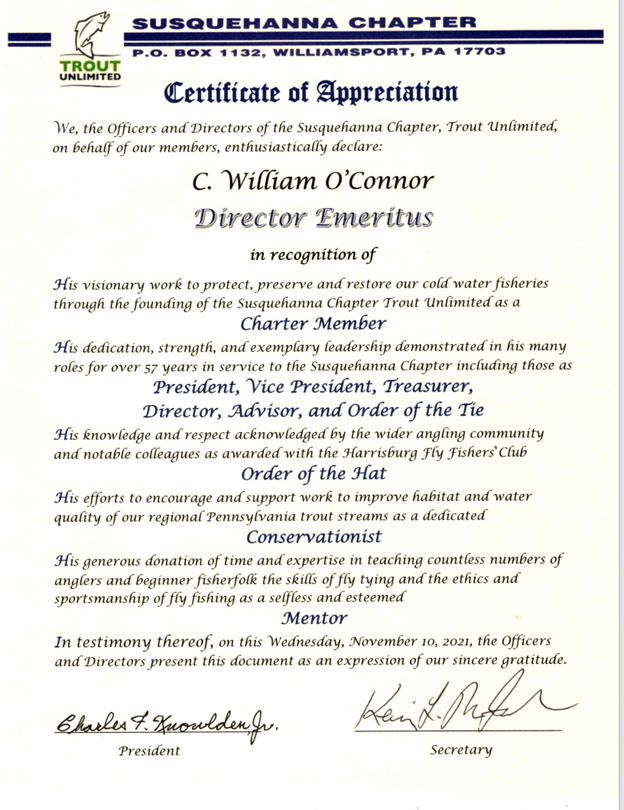 We are truly grateful for Bill's leadership, expertise, and willingness to help anyone and everyone. Bill is truly a special person and we, and the thousands of people he has interacted with, thank him for everything he has done and taught us. He has left a permanent mark on us all."

Bob Baker, Susquehanna Chapter