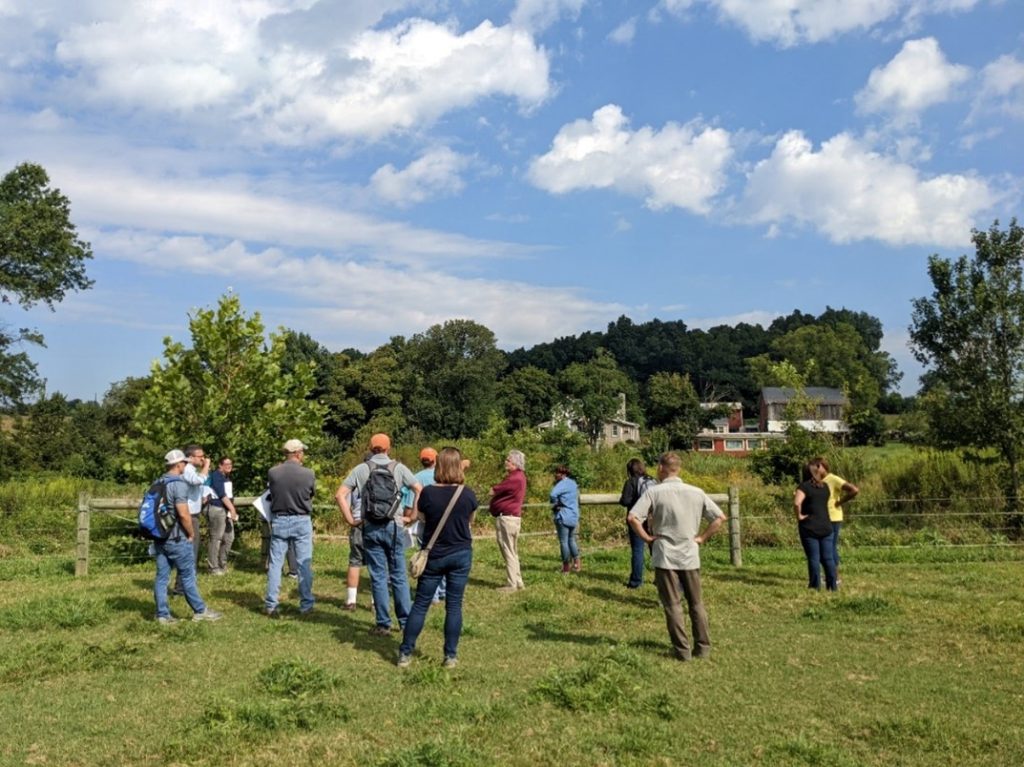 Holtwood, PA – On Friday, August 26, 2022, the Donegal Chapter of Trout Unlimited (DTU) and the PA Department of Environmental Protection (PA DEP) led a joint watershed tour in the Conowingo and Fishing Creek Watersheds in southern Lancaster County. Participants from federal and state agencies visited six sites where DTU worked closely with farmers and landowners. Best Management Practices (BMPs) included stream stabilization through grading and structures, legacy sediment removal, cattle crossings, fencing, wetland restoration, and the use of riparian buffers to restore aquatic wildlife habitat.
"Protecting and improving water quality is critical, not just for the environment but also for public health," said Jill Whitcomb, director of the Bureau of Watershed Restoration and Nonpoint Source Management at DEP. "Conservation also takes strong partnerships with organizations like Trout Unlimited, and programs like EPA's Section 319 grant program, to put these projects on the ground and improve our streams and rivers."
In 2006 DTU supported the development of the first Total Maximum Daily Load (TMDL) Plan for the Conowingo Creek Watershed. The plan resulted in EPA Section 319 funding for 15 projects in this 34 square mile watershed. The Conowingo Creek plan is currently being updated.
DTU has been at the forefront in working with partners to advocate for an Alternative Restoration Plan (ARP) for Fishing Creek. The ARP will recognize nearly a dozen stream restoration projects the chapter completed in the watershed and advance future project work. Partial funding for the development of the plan was provided by the Keith Campbell Foundation for the Environment and leveraged with matching funds from PA DEP.
"By working closely with landowners and farmers in these priority watersheds we are seeing results that will keep our community's water sources clean, save valuable farm soil, and increase wild trout and wildlife dependent on shaded and forested streams," said Lydia Martin, who serves with DTU's Conservation Committee. "Every time we work together to complete a stream restoration project, we help local farmers and landowners, neighbors downstream, and ultimately the Chesapeake Bay community."
DTU has implemented more than 50 coldwater conservation projects across Lancaster County. Many of those projects occurred in southern Lancaster County watersheds. In addition to Conowingo Creek and Fishing Creek watersheds, the chapter works in the Pequea Creek and Peter's Creek watersheds. The tour included two special stops, a visit to Camp Andrews, a youth ministry in Fishing Creek, and the Lloyd Farm in Conowingo Creek.
Donegal Trout Unlimited is an all-volunteer nonprofit with a mission "to protect, reconnect, restore, and sustain the coldwater fisheries and their watersheds in Lancaster County." To learn more visit www.donegaltu.org, follow us on Facebook, and support us through Lancaster's ExtraGive on November 18.
Contact: Lydia Martin