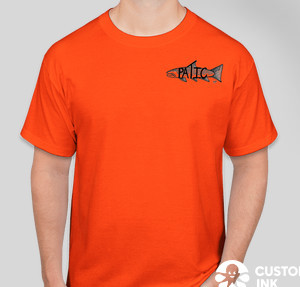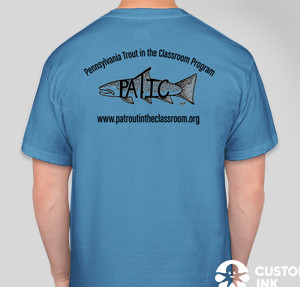 Purchase a T-Shirt and Help Bring Trout and Coldwater Conservation to Students across the State!
PATU is pleased to announce that after a two-year hiatus, the annual Trout in the Classroom T-Shirt Fundraiser is back! You can place your order directly online through the PA TIC T-Shirt Fundraiser Webpage. T-shirts will be on sale from now until March 29, 2023 at midnight and expected delivery is April 14. This year's shirt is available in orange or blue. Both youth and adult sizes are available.
Funds raised through the t-shirt sale will be used to provide grants to teachers and program partners to cover costs for replacement aquarium supplies, field trip and release day costs, materials to enhance classroom instruction, fishing equipment and supplies, and other costs to ensure students are getting the most out of their TIC experience. Startup grants will also be provided to teachers wishing to bring the program to their classrooms for the first time.
With over 400 classrooms participating in the program, grant requests often exceed available funding. This is where you come in! If you value teaching kids about trout and coldwater conservation, purchase a t-shirt today and help ensure that all TIC programs receive the funding and support they need to succeed!
Please order a shirt now and share the link with others who share your passion for coldwater conservation and stewardship. If you have any questions, please contact Rachel Kester at 814-359-5233 or via email. For more information about the TIC program, visit www.patroutintheclassroom.org.
THANK YOU FOR SUPPORTING THE TROUT IN THE CLASSROOM PROGRAM!