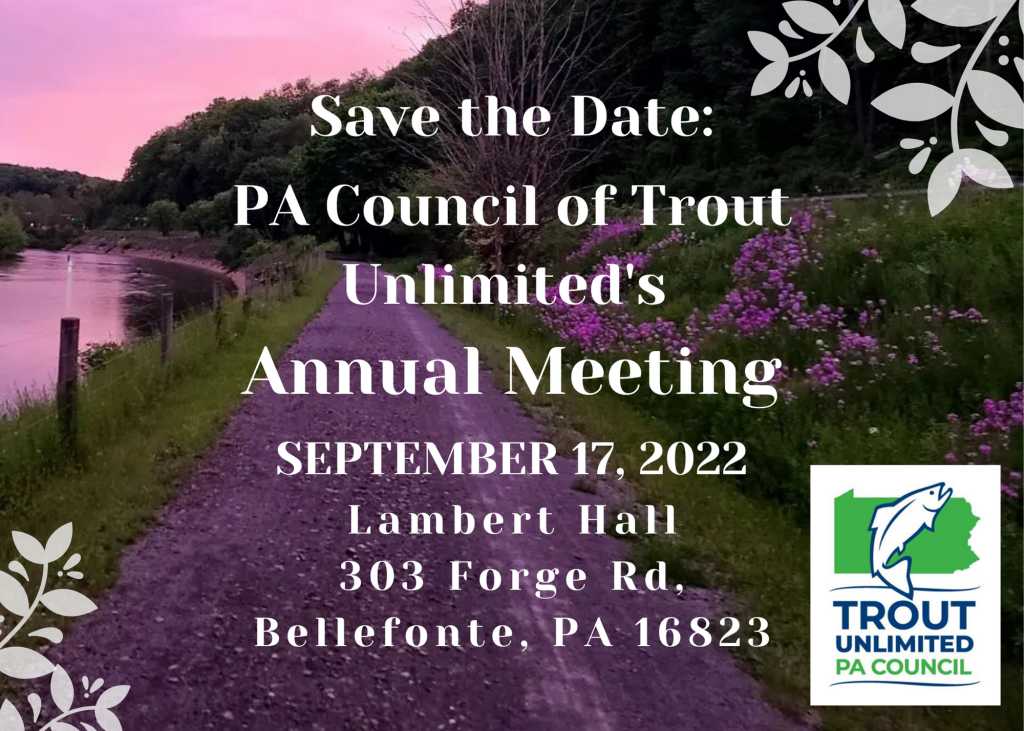 The Pennsylvania Council of Trout Unlimited will hold its annual meeting on Saturday, September 17, 2022 at Lambert Hall in Bellefonte, PA. Please join us to hear updates regarding PATU programs and partnerships, participate in elections, learn about advocacy opportunities, hear from special guest speakers, and maybe even win some prizes during the raffle. Cost is $40 per person.
View Final Agenda
---
Registration – Click here to be directed to the online registration page.
While online registration is preferred, you can also print this Registration Form and mail it with your payment. Please allow enough time for mailed registration forms to arrive in Bellefonte by September 7th.
---
Community Survey – PATU is conducting a survey to learn how we can best meet the needs of our members and communities. Please take a moment to provide your feedback. Results will be shared at the annual meeting.
CLICK HERE TO TAKE THE COMMUNITY SURVEY
---
PATU Officer Nominations are being Accepted up to and during the Annual Meeting –
According to Article VII, Section 2 of the By-Laws:
"The candidates for election to Council office shall be nominated by a Nominating Committee appointed by the President prior to the Annual Membership Meeting. The Nominating Committee shall not consist of any Officers of the Executive Committee. The Chairperson, through the Secretary of the Council shall publish and distribute, as deemed appropriate by the Executive Committee, the names of the candidates and the offices for which they are nominated no less than thirty (30) days prior to the Annual Membership Meeting."
If you wish to nominate an individual or have any questions, please contact John Leonard at [email protected].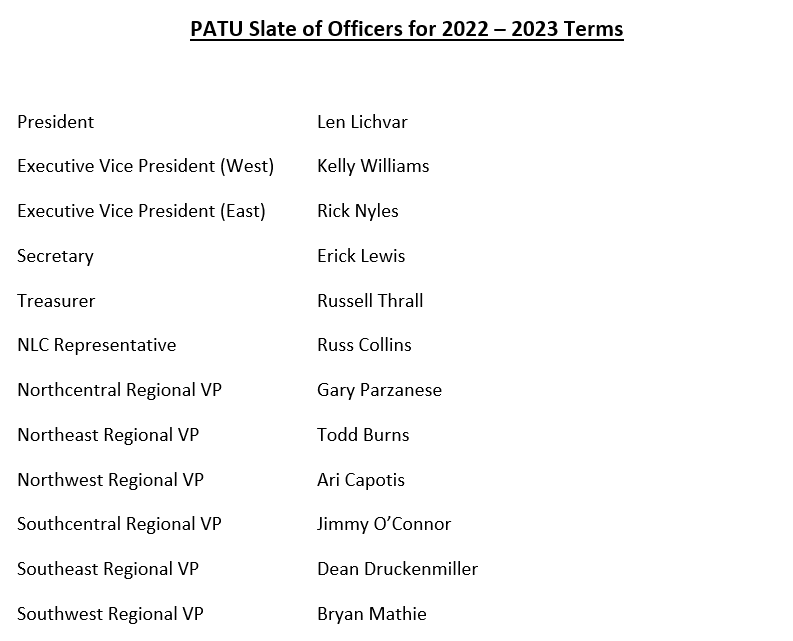 ---
Raffle Prize Donations Needed for Annual Meeting – As in the past, we are inviting all chapters to donate a prize for our raffle to be conducted at the Annual Meeting on September 17. We would welcome donations of gear, fishing trips, art, books, or anything that you think would appeal to those who will be attending the meeting.
If you're planning to attend the meeting, you can simply bring your donation with you. If you cannot attend, you can send your item to Bob Pennell, 2319 Valley Road, Harrisburg, PA 17104, but please make sure it is shipped to arrive no later than September 16.
We hope that every chapter will contribute a donation to ensure a successful raffle, and we thank you in advance for your participation.
---
PATU Merchandise Available for Purchase at Annual Meeting – We will have a complete selection of our PATU merchandise collection available for purchase at our Annual Meeting.…ultralight and travel fly rods, custom-tied leaders, "Back the Brookie" license plates, "Catch & Release" license plate frames, T-shirts, hats, and a number of books on PA fly fishing. Payment for merchandise can be made by cash, check or credit card.
---
Annual Awards – Nominations for PATU Annual Awards will be accepted until August 31, 2022. Please see the descriptions of the awards below and make your nominations today! This is a wonderful opportunity to recognize those who make have made a difference in your chapter.
To fill out a nomination form, click here.
Award Descriptions:
Edward Urbas Award for Best PA Chapter:
Award given to the chapter that best exemplifies the work of TU, including involvement in conservation efforts, community activities, outreach, youth activities, etc.
Best Small Chapter:
Same criteria as Edward Urbas Award but limited to chapters with 150 or fewer members.
Best Chapter Project:
Award recognizes an exceptional initiative, project, or effort on the part of a TU chapter which demonstrates efficient use of resources and which utilizes effective partnerships with other organizations such as government agencies, other non-profits, schools, etc., and which had a notable impact on the community and/or environment.
Doc Fritchey Award for Outstanding Coldwater Conservationist TU Member:
Award recognizes a TU member with a history of exemplifying PATU's core values and mission- conserving, protecting, and restoring PA's coldwater fisheries and watersheds and who demonstrates a commitment to volunteerism.
Outstanding Coldwater Conservationist-Professional:
Award recognizes an individual, either from a governmental agency, private enterprise, or non-profit organization who has made an exceptional effort to help fulfill the TU mission of conserving, protecting, restoring and sustaining PA's coldwater fisheries and watersheds.
Outstanding Volunteer:
Award recognizes a person who, while not necessarily a member of TU or a conservationist professional, was particularly helpful and who contributed time and effort to supporting a TU chapter or project. Their efforts on either a single project or on an ongoing basis can be considered and described in the nomination.
Best Chapter Website:
Award recognizes a TU chapter's website that is attractive, clear, up-to-date and easy to navigate
Samuel Slaymaker Award for Best Chapter Newsletter:
Award recognizes a TU chapter's newsletter which includes information about said chapter's activities that is current, well-presented and clear, and visually attractive.
Dr. Jack Beck Award for Outstanding Youth Outreach:
Award recognizes an individual who has shown exceptional leadership and commitment to youth outreach, programs, and activities.
Ken Sink Award to Outstanding Service to PATU:
Award is given to a person who contributes to PATU's mission in a notable way. It is intended to recognize a person who had been involved for a significant period of time and who has demonstrated steadfast dedication to coldwater conservation, protection, restoration, as well as volunteerism and leadership. It is not necessarily presented every year.
Inky Moore Award for Outstanding Service to State Council:
Award recognizes a person through his or her recent efforts, shows promise as a future leader of the organization. PATU board and/or council members must make nominations.
Diversity Award:
This award recognizes a chapter that is engaged in adding diversity among the members in the chapter. It is important that chapters ensure that youth, women, and men take an active part in TU chapters. This ensures that TU chapters are able to carry on and it allows experienced chapter members to cultivate knowledge to new members. But it is also important that all members bring a voice to the chapter to ensure forward momentum.
Click here for additional award criteria.