On October 1st, the Adams County Trout Unlimited (ACTU) chapter held an outdoor gathering to jointly celebrate both the creation of the Zeigler Mill Road Access site to Conewago Creek and the 40th Anniversary of the partnership between the Adams County and Northern Virginia Trout Unlimited (NVTU) chapters.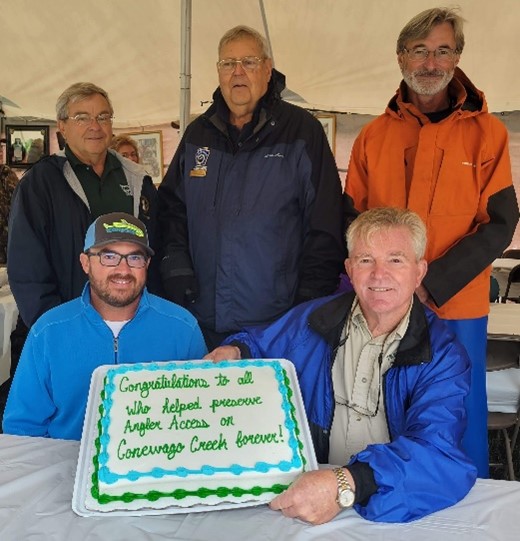 The celebration was held to:
recognize the individuals and organizations whose support and significant financial contributions led to the acquisition and preservation of the angler access to the 58-acre site along Conewago Creek, and
applaud the two chapters' long-term partnership on the Conewago Creek Fly Fishing, Catch and Release section that has resulted in many habitat improvement projects to enhance the creek's fisheries and aquatic resources.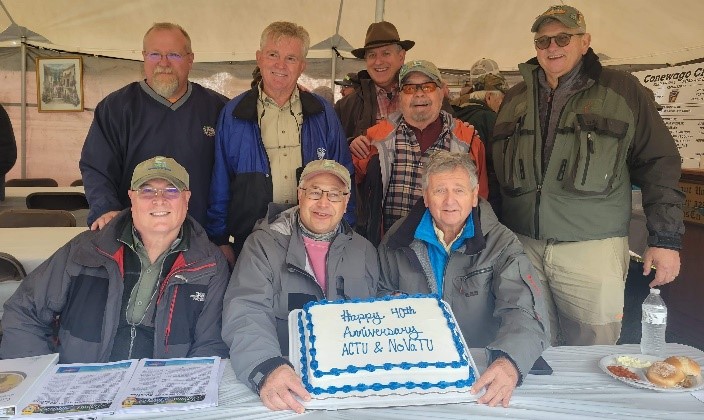 Some 55 people braved the elements to attend the dedication and recognition ceremony at the newly constructed parking lot and access road at the Zeigler Mill Road Access site. As part of the ceremony, several guest speakers that had played a part in the successful property acquisition or in the successful partnership of ACTU and NVTU shared their thoughts with the attendees.
In addition to recognizing those individuals and organizations that had contributed funds for the land acquisition, we also recognized four companies that donated all the labor, materials, and equipment for the planning and construction of the parking lot and road: Conewago Enterprises, Sharrah Design Group, Vulcan Materials Company, and New Enterprise.
ACTU and NVTU plan to continue the stream improvement work which has been ongoing for decades. Future plans call for the planning and construction of a nature trail through the site and planting of 200 to 250 trees.
Frank Kozak
Adams County Chapter President